No Swimming, No Boating, No Fishing
Attraction Details
Rating:

Elevation:

3240 feet

Attraction Type:

Lake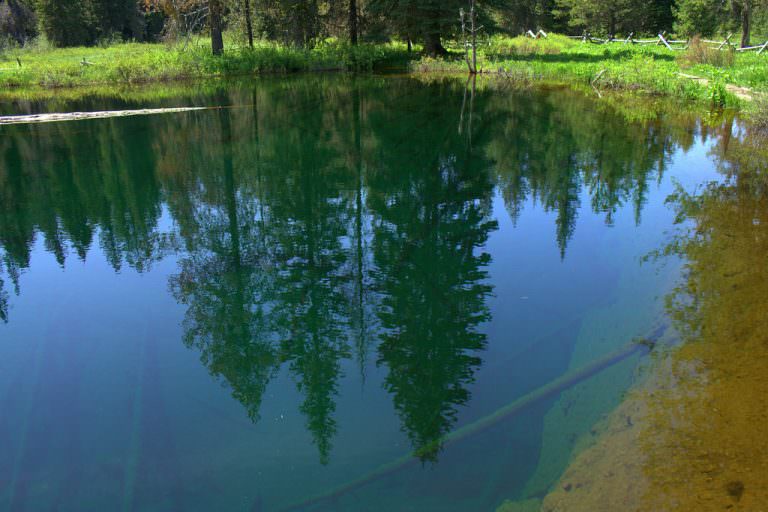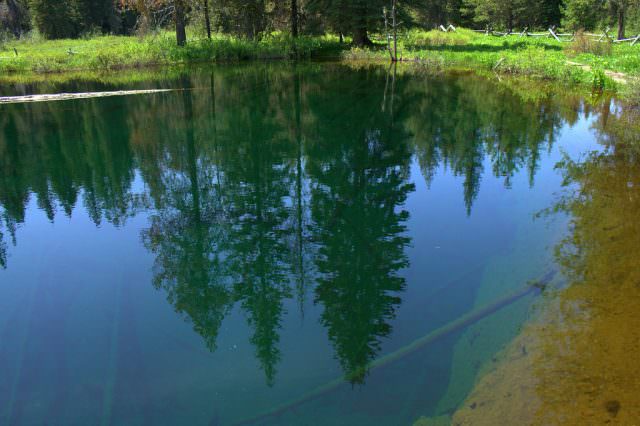 Little Crater Lake Attraction Description
Hiking the Pacific Crest Trail or camping at Timothy Lake? Then you definitely want to know about Little Crater Lake.  This geological wonder has been the focus of many adventurers and drone operators for good reason.  Little Crater Lake is a gorgeous turquoise spring located in the Mt. Hood National Forest that will remind you of the geysers of Yellowstone only 100 degrees colder.
Little Crater Lake is very small – it should probably be named Little Crater Pond but that kind of strips it of its mystique.  Any decent swimming could hold their breath and traverse the lake in its entirety very easily.  Even so, this little lake is worth visiting if you are in the area.  There is a short .15 mile trail around the lake and a small viewing platform with signs asking visitors to not swim.  For those of you brave enough to ignore the no swimming signs you are in for a shock.  Thanks to the underground aquifer the crystal clear waters at Little Crater Lake are a blistery 34 degrees year round.
If you are hiking the Pacific Crest Trail you can take a short side trip that will take you less than a quarter mile off your route to visit Litle Crater Lake.  The trail should be clearly marked.  For those of you camping at Timothy Lake you can either drive to Little Crater Lake or take the Timothy Lake Trail to the Little Crater Lake junction on a day hike.
Little Crater Lake is located adjacent to the less popular Little Crater Lake Campground.  This campground tends to be an overflow campground for when Timothy Lake campgrounds are full.  You will find 16 campsites, Potable Drinking Water and Vault Toilets here.
Weather for Little Crater Lake
{{current_weather.dt | momentjs( atts.date )}}
{{current_weather.temp | temp}} °{{units}}
{{day.dt | momentjs(atts.date)}}
{{day.temp | temp}} °{{day.temp_min | temp}} °{{units}}
{{current_weather.temp | temp}} °
Humidity: {{current_weather.humidity}}%
Clouds: {{current_weather.clouds}}%
Wind ({{current_weather.wind.deg}}): {{current_weather.wind.speed}}{{units_wind}}
{{current_weather.desc}}
{{day.dt | momentjs(atts.date)}}
{{day.temp | temp}}°
{{day.temp_min | temp}} °
Little Crater Lake Photos
Nearby Campgrounds
*Distances are as the crow flies