2021 Timothy Lake Campground Opening Dates:
Timothy Lake is a man-made lake located about 75 miles east of Portland, Oregon in the Mount Hood National Forest. Timothy Lake was created by Portland General Electric in 1956 when a dam was constructed at the southwest shore to regulate the flow of water feeding the Oak Grove fork of the Clackamas River. Today, Timothy Lake is better known for its many summertime recreational uses including swimming, fishing, camping, mountain biking, boating, hiking and more.
When to Visit Timothy Lake
Located at an elevation of 3,200 feet and nestled in the Mount Hood National Forest, Timothy Lake is best when visited during the warmer summer months typically in July and August. In the winter all the campgrounds around the lake close and it is common to run into snow making it difficult to get around. Winter snow parking passes are honored for those on the more adventurous side and activities included snowshoeing, cross country skiing and snowmobiling. For those visitors looking to do some camping at Timothy Lake note that most campgrounds are open around mid-May and close in mid to late September.
How to get to Timothy Lake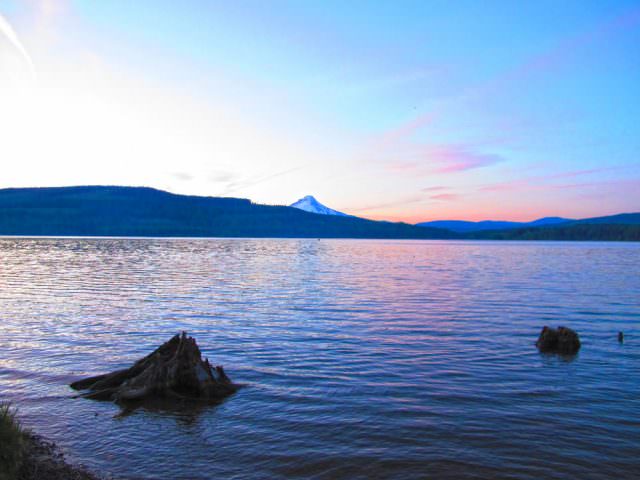 There is really only one main paved road into and out of the area however for those not afraid of dirt roads you will find several different access points. The main route to the lake is to take Highway 26 from Government camp and after Clear Lake take the Skyline Road exit. Skyline road is paved however is a long and windy road that takes about 15 minutes to navigate after you leave HWY 26. The road is easily large enough for RVs and trailers.
Map of Timothy Lake
Camping at Timothy Lake
Camping is by far the most popular summertime activity at Timothy Lake and with stunning views of Mount Hood as well as over 10 campgrounds to choose from it is no surprise. The camping here is considered by some to be the best in all of Oregon. The campgrounds can accommodate almost any type of camper ranging from horse camping, car camping and hike in only camping.
Timothy Lake and many other campgrounds in Oregon used to operate under the guides of first come, first served but things have changed. Now if you are planning on camping at Timothy Lake, especially on the busy weekends, you will be best suited to make reservations. When reserving a campsite for this popular area you can expect sites to fill up nearly a year ahead of time so planning out your trip is a good idea. In the months of July and August, campers can find out that most campgrounds lack vacancy even during the middle of the week.
Below we have put together a list of all the campgrounds around Timothy Lake.
Weather Conditions
Timothy Lake is located at a relatively high elevation of 3,200 feet. This means that during the winter months the ground is usually covered in snow and in the summer the days are warm and nights are chilly. If you visit the lake early in the spring you may see some patches of snow on the ground and the water will surely be too cold to swim in. During the dog days of summer swimming at Timothy Lake is perfect. No matter when you visit Timothy Lake be sure to bring warm clothing for the cold nights.
Here is a graphic of current weather conditions at Timothy Lake

Nearby Live Webcam
The below image is a view of a nearby State of Oregon webcam located near the Highway 26 turnoff about 10 miles from Timothy Lake. Please note the altitude at this camera is roughly 800 feet higher than the elevation down at the lake. Even so, it can still give you a decent idea if there is snow on the ground, is it sunny at the lake, etc.

Gone Creek Campground
Lakeside Camping
Number of Campsites: 50
Hoodview Campground
Lakeside Camping
Number of Campsites: 43
Oak Fork Campground
Lakeside Camping
Number of Campsites: 47
Pine Point Campground
Lakeside Camping
Number of Campsites: 25
The Cove Campground
Lakeside Hike In Camping
Number of Campsites: 10
North Arm Campground
Lakeside Camping
Number of Campsites: 8
Meditation Point Campground
Lakeside Hike in Camping
Number of Campsites: 5
Little Crater Lake
No swimming, about a mile from Timothy Lake
Number of Campsites: 16
Clackamas Lake Campground
No swimming, about a mile from Timothy Lake
Number of Campsites: 46
Dispersed camping
Timothy Lake has 40 dispersed/primitive campsite scattered around the lake. These are first-come, first-served sites with zero services and no fees. These campsites are hard to find but are designated with markers. Think of it as camping in the woods. The road to each site will be different and may not accommodate all vehicles. Here is a map with more information on dispersed camping at Timothy Lake.
Things to do at Timothy Lake
There are plenty of things to do at Timothy Lake during the summertime including hiking, swimming, fishing, boating, biking and lounging in the sun on the beach.
Hiking and Biking around Timothy Lake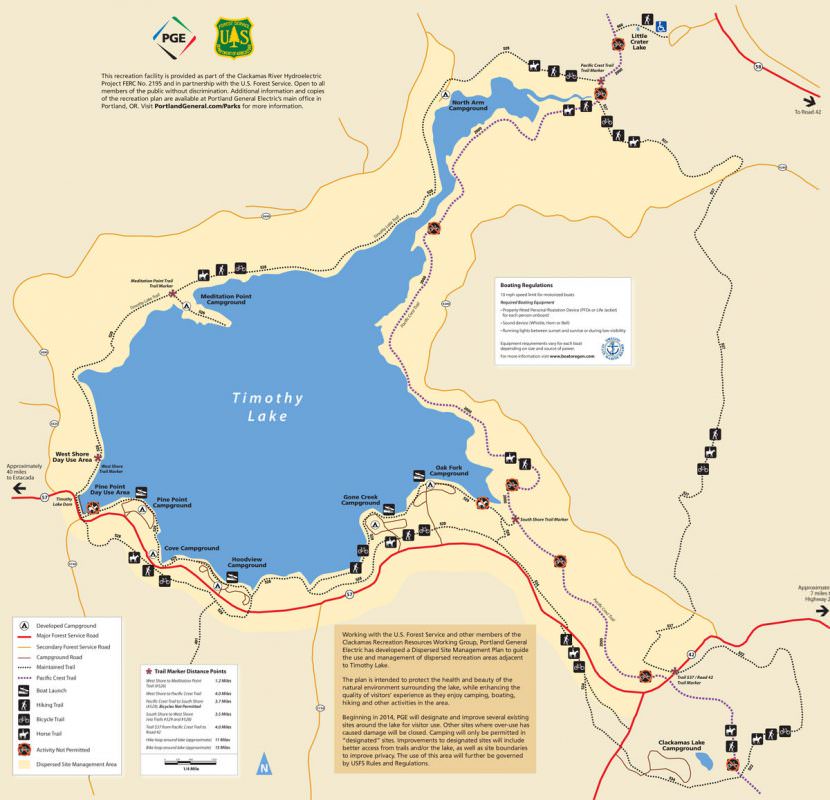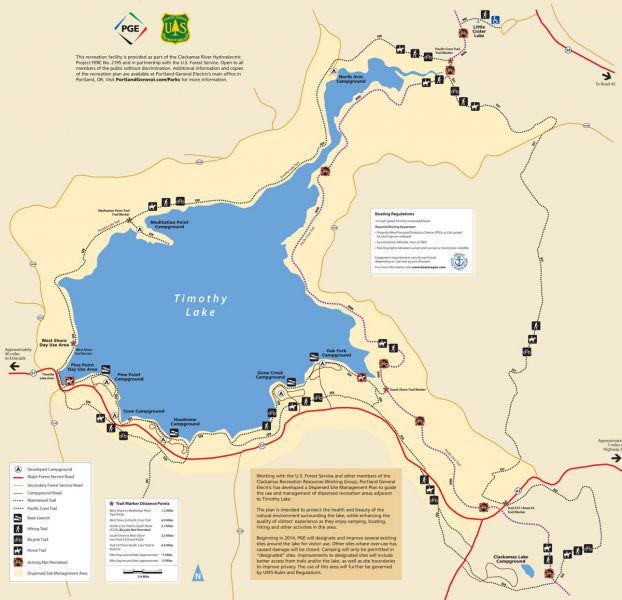 There is a great trail that runs around the perimeter of the lake and is open to both hiking and biking and is 13 miles in distance. The west side of the lake is a great area to explore as there are no drive in campgrounds and you can find yourself your own little beach with little effort. For more information on the Timothy Lake Trail check out this P0rtland Hikers post.
Boating on Timothy Lake
There quite a few boat ramps (4) at Timothy Lake making it very easy to launch and be on the water in no time. Ramps are typically found in the campgrounds near the day use areas and there is a parking fee to leave your trailer or care. It is important to note, though, that there is a strictly enforced 10mph speed limit on the ENTIRE lake. It is for this reason that Timothy Lake is more popular with non-motorized boats though you will find motorboats on the lake. Keep in mind that due to its popularity the law is strictly enforced and you will want to make sure you have life vests even on small inflatable rafts.
Swimming in Timothy Lake
Timothy Lake is an amazing place for summertime swimming that is hard to beat anywhere else nearby. On a warm July or August day, the water is perfect and the semi-rocky beaches are great for laying out on. Some of the best swimming in the lake can be found near the day-use areas of Gone Creek Campground and Hoodview Campground and if the weather cooperates you will get excellent views of Mt. Hood. Keep in mind that the lake is man-made so you will find stumps and other odd hazards just under the surface of the water.