Finding the perfect campground near Portland can be a tricky task and often times leads you farther from home than you would really like to go. Those of us that are lucky enough to live in Portland, however, don't have to worry about that. Camping near Portland doesn't have to be difficult with our list of 10 campgrounds that are no further than an hour and a half drive and are perfect for a quick weekend retreat.
Gales Creek Campground
Distance from Portland: 50 minutes
Number of Campsites: 21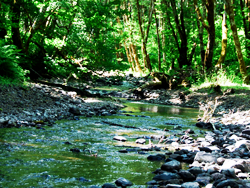 Gales Creek Campground is located off of highway 6 about 30 minutes east of Hillsboro in the Tillamook Forest. The campground sits on the edge of Gales Creek and is in a luscious canvas of deep green foliage. The sound of running nearby helps drown out the noise from your weekend neighbors and the sites are decently spaced out a relatively private. Families can often be found in the campground as its close proximity to Portland makes it ideal for a quick retreat. Gales Creek Campground is on a first come, first serve basis so make sure you get here early or you will be out of luck. If you do happen to come by when this campground is full check out Elk Creek Campground further up Highway 6.
Learn More…
Elk Creek Campground
Distance from Portland: 1 hour
Number of Campsites: 14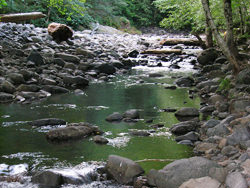 Elk Creek Campground is located about 10-15 minutes east of Gales Creek Campground off of Highway 6 just under an hour's drive from Portland. The campground is about 300 yards away from the highway at the junction of Elk Creek and the Wilson River, making it a popular spot for anglers. The campground itself is small, almost in a primitive way, and does not offer too much in the way of privacy from site to site. That being said, with only 14 sites available and rarely filling to capacity, Elk Creek Campground is a great option for that weekend getaway. Nearby hiking trails up King's Mountain and Elk Mountain make this spot popular with day use as well.
Learn More…
LL Stub Stewart State Park
Distance from Portland: 45 minutes
Number of Campsites: 151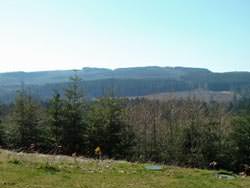 Stub Stewart State Park is located just 45 minutes west of Portland, Oregon and offers a multitude of outdoor activities for the entire family. Stub Stewart is one of the newest State Parks in Oregon and was built to accommodate campers in the Portland area who don't want to travel hours just to get away for a few days. Due to its close proximity to a large metropolitan area the park is also popular with many day use visitors who frequent the many hiking trails, mountain biking parks, disc golf course and horseback riding trails. There are various campground loops with different degrees of site privacy and one camp that is built primarily for equestrian enthusiasts. Stub Stewart State Park is a great getaway destination for the nearby Portlander.
Learn More…
Sunset Falls Campground
Distance from Portland: 1.5 hours
Number of Campsites: 18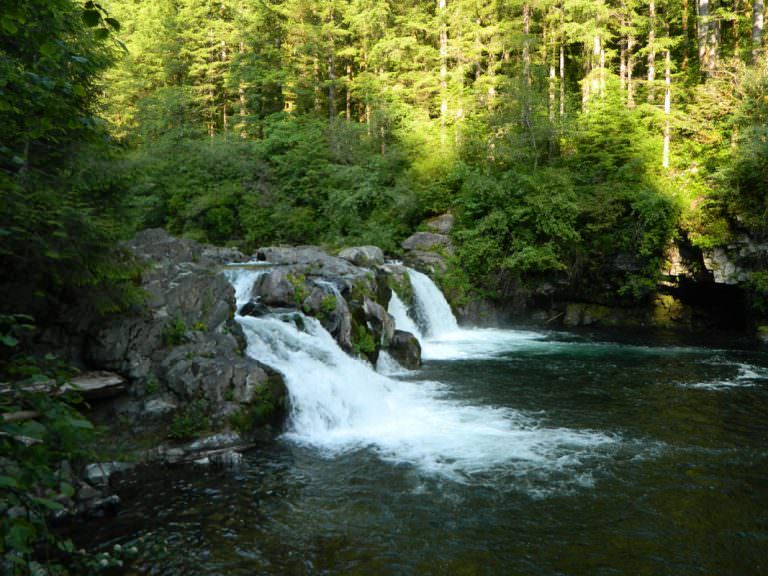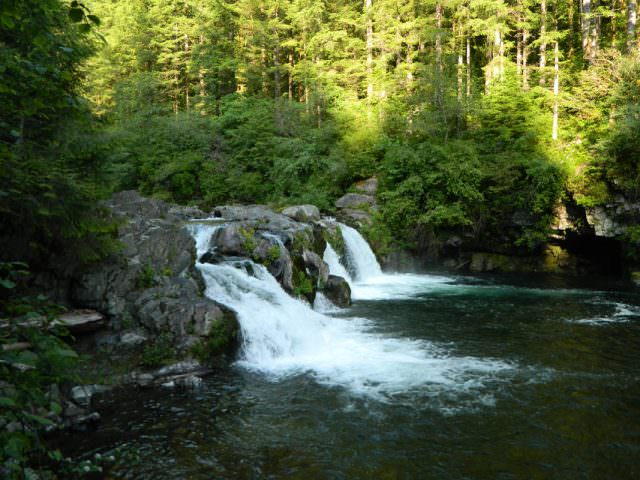 Sunset Falls Campground in southern Washington is tucked neatly away in the SW corner of the Gifford Pinchot National Forest about an hour east of Battle Ground. The campground is situated on the edge of the Lewis River and as the names states is next to the beautiful Sunset Falls. Like so many campgrounds in the northwest, Sunset Falls sits under a heavy canopy of thick trees that let through little sunlight. The campground, however, is well worth the hour and half drive from Portland as the sites are fairly private and the crowds are low.
Learn More…
Tollgate Campground
Distance from Portland: 1 hour
Number of Campsites: 15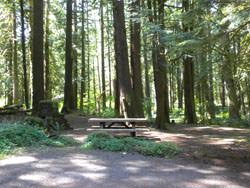 If you have ever been to Mount Hood than you have almost surely driven right by Tollgate Campground off of Highway 26 just a few hundred yards past the town of Rhododendron. Tollgate Campground parallels the Zigzag river offering beautiful views both up and downstream. The campground sits in a large old growth forest of mostly Douglas Firs and Rhododendrons and provides great access to plenty of hiking, wildlife viewing and fishing. For those who aren't interested in camp cooking there is a short trail that leads straight to several diners in nearby Rhododendron. This campground tends to fill up quickly and reservations are advised.
Learn More…
McNeil Campground
Distance from Portland: 1 hour 15 minutes
Number of Campsites: 43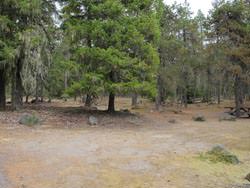 McNeil Campground is located about 5 miles East of Zigzag off Highway 26 and sits near the Sandy River on Mount Hood. The campground is old looking and primitive in general with no drinking water and vaulted toilets that hardly count as toilets. It is, however, a nice getaway and a popular overnight destination for those looking to hike to the well known Ramona Falls or one of the other many trails in the area. The campsites, like most everything on this part of Mt. Hood, are sandy but well spread out and there are water spigots scattered throughout – though none of them work. Even so, this is still a popular camping destination not too far from Portland. Reservations not available.
Learn More…
Lazy Bend Campground
Distance from Portland: 1 hour
Number of Campsites: 21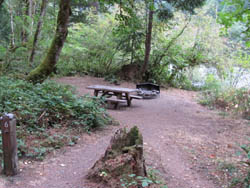 Lazy Bend Campground is the first of many, many campgrounds located off highway 224 up the Clackamas River east of Estacada, Oregon. Lazy Bend rests on the edge of the popular Clackamas River and is home to 21 campsites scattered throughout. Most of the sites are fairly private with thick vegetation in between them and decent river access depending on the time of year of your visit. Lazy Bend is a very popular campground and often fills up very quickly so we recommend reservations. If it is full when you arrive without reservations try venturing further upstream to one of the many other campgrounds on the edge of the Clackamas River.
Learn More…
Oxbow Regional Park
Distance from Portland: 30 minutes
Number of Campsites: 67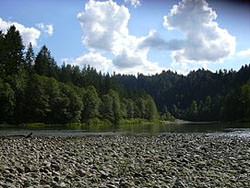 Oxbow Regional Park is probably the closest true "campground" to the Portland metro area you are going to find. It's proximity to such a populous area comes with a price, though. Oxbow Regional Park sits on the edge of the Sandy River and offers excellent beach access, large fields for kids to play in, picnic area, and plenty of near nature experiences for the whole family. Just east of the city of Gresham, Oregon, the campground is generally about a 30 minute drive at most for most people living in the Portland area. But remember how it's close proximity comes at a price? Oxbow tends to fill up with river floating party seekers during the hottest weekends in the summer and there is a strict rule against K-9 companions throughout the entire park. During the evenings, at sundown, the park gates are closed and locked to keep out unwanted guests who may try to wander in from the nearby city. In general this is NOT a good campground for those looking for solitude. If none of those things bother you than Oxbow may be the perfect nearby getaway for your next weekend adventure.
Learn More…
Trillium Lake Campground
Distance from Portland: 1 hour 15 minutes
Number of Campsites: 57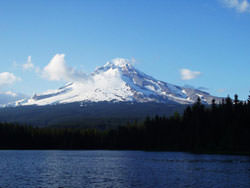 Trillium Lake is perhaps one of the most often photographed locations on all of Mount Hood. Just minutes outside of Government Camp and off of Highway 26, Trillium Lake offers something for nearly every camper out there. The campground is large with 57 campsites and most sites are privately nestled in between trees and bushes. The lake itself offers beautiful views of Mount Hood and during the warmer months can be a nice place to take a dip – though no motors are allowed on the lake. The area is popular with hikers, bikers, anglers and skiers alike. Due to its popularity reservations are recommended.
Learn More…
Champoeg State Park
Distance from Portland: 30 minutes
Number of Campsites: 101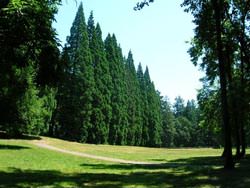 Champoeg State Park is located just minutes from I-5 and west of Wilsonville, Oregon. The park sits on the edge of the Willamette River and is popular with day use visitors as well as overnight campers in both tents and RVs. There is no designated swimming area along the river but those who want to can take a swim without a problem. The area has designated picnic areas, nature trails and is good for anglers on the river. This is another great campground for those who are looking to simply get away for a night or two or even for the novice camper. If you are looking for a more secluded campground look elsewhere.
Learn More…
Do you have a favorite campground that isn't too far from Portland that we missed? Feel free to share it in the comments below!