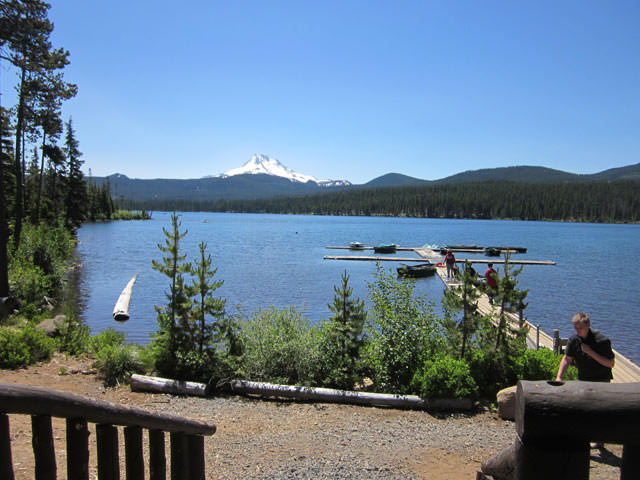 Olallie Lake is a popular destination for many outdoor enthusiasts and it is a place with a multitude of things to do.  Here is a short list of 5 things you can do while visiting Olallie Lake.
1) Boating.  Whether you are new to boating or are an experienced veteran, Olallie Lake is a great place get out on the water and enjoy the amazing scenery.  No motor boats are allowed on Olallie Lake and you will mostly find paddlers including kayaks, canoes, paddle boats and row boats.  If you do not have  a boat they can be rented at the lake store starting at $8 an hour and up to $30 for the day.  Weekly rates are also available if you want to stay awhile.  For current rates visit the Olallie Lake Resort boat rental page.
2) Camping. Olallie Lake is a very popular camping destination and campgrounds on the lake tend to fill up fast during the peak summer months.  The most popular as well as scenic campground is Peninsula Campground which is home to 35 campsites, many of which have lake shore views.  Camp Ten is another campground on Olallie Lake and it has 10 Campsites.  Paul Dennis Campground is another option with 17 sites available.  None of the campgrounds at Olallie Lake have drinking water so it is recommended you bring your own.  If you find that all the sites are full there is plenty of make-shift off road camping available in the area.
3) Fishing.  Olallie Lake is a very popular fishing destination and you can often find the shores lined the anglers galore.  The lake is stocked and with the availability of boat rentals it really increases the popularity.  Bait is for sale at the Lake Store and don't forget to come with License.
4) Hiking. Olallie Lake sits at the foot of Mt. Jefferson and is towered over by Olallie Butte.  The Pacific Crest Trail makes a pit stop near the Lake Store which makes it easy for hikers to jump on the trail for a nice day excursion.  Hiking in the area ranges from moderate to difficult but there are so many views to take in it makes even the strenuous hikes worth it.  Hiking up Olallie Butte is discouraged as it is on Warm Spring Indian Reservation however it is not illegal.  For details on how to access the trail up Olallie Butte check this Olallie Butte Trail Page.  For a great writeup on a 6 mile hike up the Pacific Crest Trail check out the Double Peaks hike writeup.
5)  Swimming.  Swimming in Olallie Lake is not allowed as they claim it is a drinking source for the Cabins and Camp Store.  This is not much of a deterrent for campers as the campgrounds do not provide drinking water.  Like so many rules, this one does not make much sense to us but we are forced to follow it.  An alternative to Olallie Lake is the nearby Monon Lake just a 2 minute drive or 10 minute hike from Peninsula Campground.  It is a great spot for a quick swim and while the water is chili it is not unbearable – though this may depend on the time of year you are there.  There is also a swimming hole at Head Lake within walking distance west of the Lake Store