Collapsed Lave Tube
Attraction Details
Rating:

Elevation:

3047 feet

Attraction Type:

Cave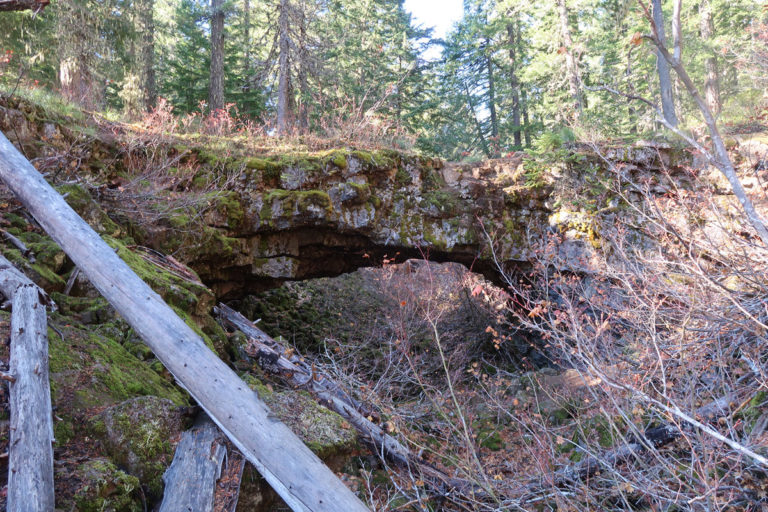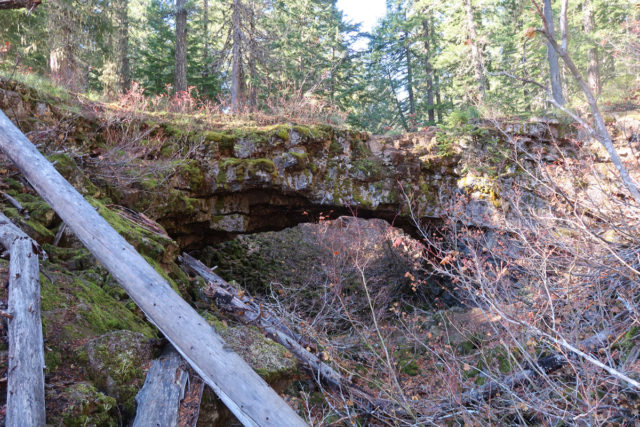 Natural Bridges Attraction Description
Natural Bridges is a unique natural attraction featuring a collapsed lava tube that has left behind two natural bridges and several small cave openings.  Over 12,000 years ago lave flowed in this area and carved out a tunnel much like many of the other caves in this area, however, this particular tunnel collapsed and left behind two "bridges".
From the trailhead/parking the bridges can be reached by walking less than 5 minutes on clearly worn trail.  There are no real signs here indicating the location but just follow the footpath and you cannot miss it.  The trench runs for nearly a mile and a rough trail follows its perimeter for those who want to hike it.  Walking through the actual trench would be too difficult as it is full of shrubs and large boulders.
If you explore this area in detail you should be able to find several openings that lead back to small caves.  Be sure to bring flashlights, appropriate shoes and warm clothing if you enter any of the caves.
Natural Bridges is a great area for children to explore but keep in mind that there are no railings on these bridges and they could pose a real danger for little ones.
Directions
From Portland it is an hour and forty five minute drive.  Head to the town of White Salmon, Washington and from here head north on Highway 141.  The drive from White Salmon is about 40 minutes.  Take Highway 141 to Trout Lake and then continue on 141 as it veers east.   Continue until you see signs for "Guler Ice Caves" and then proceed past the Guler Ice Caves turn off and make your next left onto Forest Road 041.  From here drive 1000 ft and take your next right onto another dirt road.  Proceed down this road for another 1000 feet until you reach an open area that would be good for parking.  This is the trailhead.  Keep your eyes peeled for a little path that leads south into the woods and then follow that for a very short walk until you rach the trench.  You have arrived.
Nearby Campgrounds & Attractions
If you are looking for places to camp near Natural Bridges check out our list of campgrounds below.  There are also many other attractions in this area including Guler Ice Caves that are worth exploring.
Weather for Natural Bridges
{{current_weather.dt | momentjs( atts.date )}}
{{current_weather.temp | temp}} °{{units}}
{{day.dt | momentjs(atts.date)}}
{{day.temp | temp}} °{{day.temp_min | temp}} °{{units}}
{{current_weather.temp | temp}} °
Humidity: {{current_weather.humidity}}%
Clouds: {{current_weather.clouds}}%
Wind ({{current_weather.wind.deg}}): {{current_weather.wind.speed}}{{units_wind}}
{{current_weather.desc}}
{{day.dt | momentjs(atts.date)}}
{{day.temp | temp}}°
{{day.temp_min | temp}} °
Natural Bridges Photos
Other Nearby Attractions/Activites
*Distances are as the crow flies