If you have ever hiked the 40 mile long Timberline Trail that circumnavigates Mt. Hood then you are familiar with the beautiful meadows of Elk Cove on the north side of the mountain.  Elk Cove is tucked away in a remote area of Mt. Hood far from any roads, ski areas or cabins and it is this seclusion that gives it its charm.  There are several ways to get to Elk Cove but for this hike we approached it from the Elk Cove trailhead near Laurence Lake just outside of Parkdale.
Finding the Elk Cove Trailhead
The Elk Cove Trailhead is located just a short drive from the Kinnikinnick  Campground at Laurence Lake, roughly 40 minutes from the town of Hood River.  If you are driving from Portland you can either go over Mt. Hood using HWY 26 to HWY 35 or you can take the quicker route through The Gorge using HWY 84.  When you get to Laurence Lake you will want to enter the Kinnikinnick campground and look for a dirt road the heads off to the left just across from the main parking area.  Follow this road up about 3-5 minutes until you can turn left into an immediate parking area for the trailhead.  As always do not leave valuables in your vehicle and be sure to fill out a wilderness permit at the trailhead kiosk.
Elk Cove Trail Hike
The Elk Cove Trail hike is not a beginner hike.  While it is a moderate hike coming in at roughly 10 miles round trip it has a significant elevation gain and lacks shade for most of the hike due to the recent Dollar Lake fire of 2012.  The hike follows a ridge line for the majority of the time and because of this there is no water access after the trailhead until you are nearly at Elk Cove.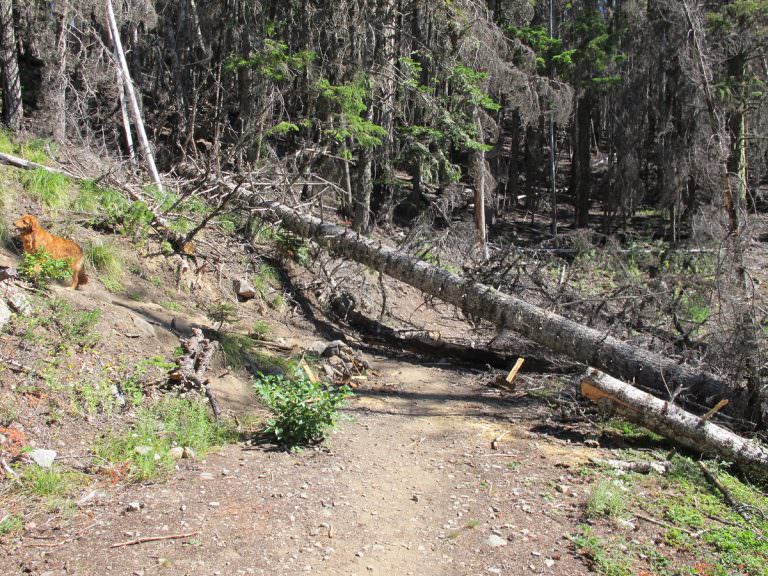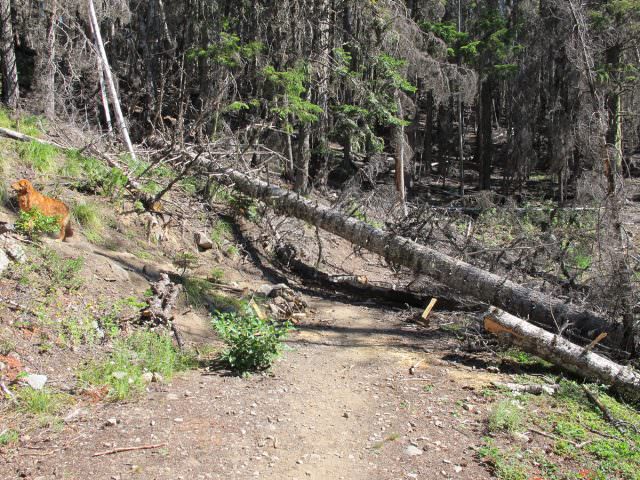 Starting from the Elk Cove Trailhead you will immediately cross a footbridge at Pinnacle Creek and then follow an old logging road for about a mile.  The road does a long single switchback and soon runs into a log that has fallen across the road.  At this point you will find the actual trail peeling off to the left and up the ridge.
The trail will soon cross into the burnt forest from the 2012 Dollar Lake fire and stays on the ridge line for about 3 miles.  The climb is long and gradual and in the heat of the day, especially during the summer, it will start to take its toll.  Soon, you will come to an excellent viewpoint call the Coe Overlook that will give you your first good glimpse of Mt. Hood and the canyon below.  Take some photos here and if you can find shade take a short break.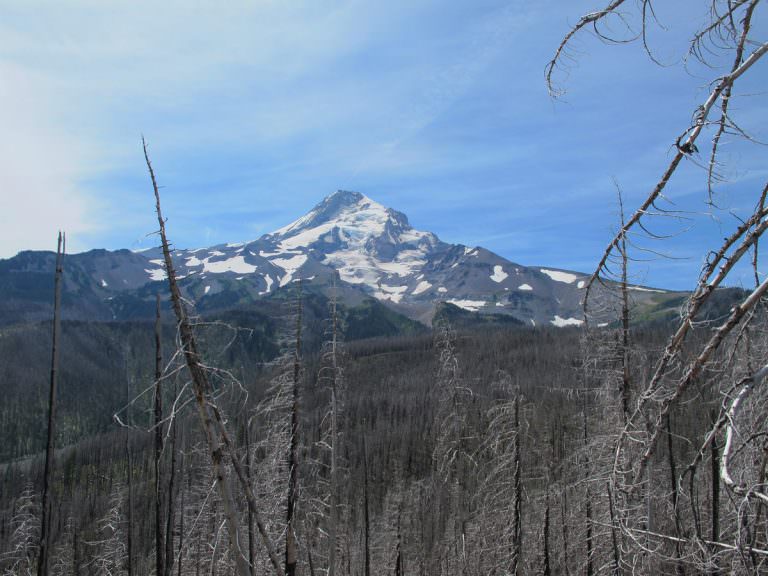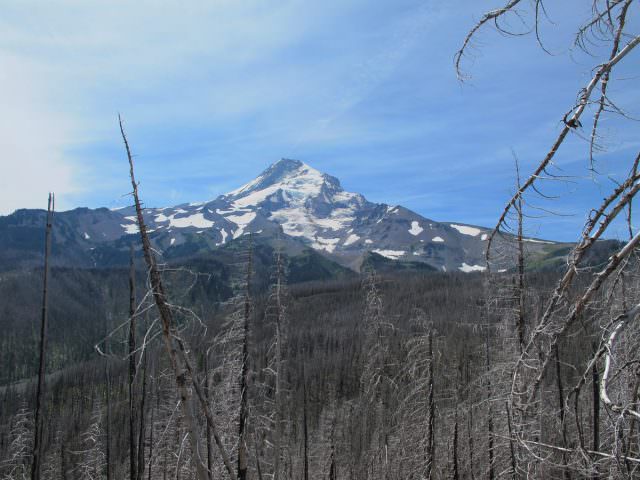 After Coe Overlook you will finally get back into a more wooded area that did not fall victim to the Dollar Lake fire.  The brush gets thick and at points you may have to climb downed trees.  Keep your eyes out here for Huckleberries in late July and August.  Eventually, you will come to your second creek crossing at Cove Creek.  There is no foot bridge here however this crossing is fairly easy.  If you aren't ready for more water here that is OK as there is more opportunity to fill bottles at Elk Cove.
Keep on hiking up and soon you will start passing small campsites as you near the Timberline Trail.  If you are going to spend the night in Elk Cove you will want to keep heading up the mountain rather than camp at these lower sites.  Keep on hiking until you get to your very first trail junction at the Timberline trail.  Taking a left will take you towards the famous Cloud Cap Inn however to get to Elk Cove you will want to go right.  There are also signs at the trail junction indicating which direction is Elk Cove.
Not far from the junction – maybe 50 yards – you will cross cove creek again and see another campsite on right after crossing the creek.  To really experience Elk Cove keep hiking a short distance past Cove Creek until the trail starts heading up toward the mountain.  You will be greeted with a lush meadow and right before the trail starts to do switchbacks on its journey towards Dollar Lake you will want to follow a footpath that parallels Cove Creek up the meadow.  Soon the path will dissipate and you will find your self in the middle of Elk Cove.
Overnight in Elk Cove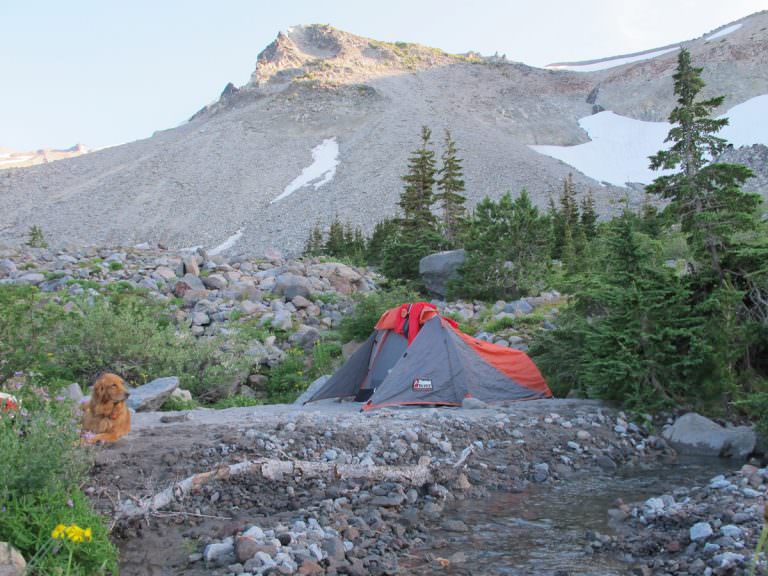 If you are looking to spend the night in Elk Cove it may be easiest to claim one of the campsites you see as you come into the area.  The further up the meadow you travel the more difficult it becomes to find a flat place to pitch a tent.  Keep in mind the terrain here is very sensitive and it would be wise to stick with an area that has already been designated as a campsite.  During the summer months you can expect quite a few other campers here as the Timberline Trail passes right through the area.
Scrambling to Coe Glacier
If you are looking for a side trip from Elk Cove you can make your way up to the foot of Coe Glacier – roughly 1000 vertical ft climb.  There is no trail up here and you can expect a hand over foot scramble across very loose rock.  This is NOT an easy climb and there is quite a bit of exposure.  If you do make it, though, the views of Coe Glaicer are well worth it.
Here is a GPS track of the descent from Coe Glacier to Elk Cove.
Tips and Suggestions
When I did this hike it was on a 90 degree day in August and I had my dog with me.  BAD IDEA.  The lack of shade and water on this hike makes it extremely difficult for our furry four legged little friends.  I actually ended up carrying the dog out as she had completely over-heated and couldn't continue.  Bring lots of water, sunblock and energy bars for this hike.  A water purifier or tablets is also suggested so you can refill your bottles up on the meadow.
Photos of Elk Cove Hike