Part of the mystique of the John Muir Trail (JMT) is the plethora of enduring myths. Some are partially false, most are fully false. But all are fun and garner the attention of hikers and prospective hikers. Let's address these myths, in no particular order.
1. The JMT is only suitable for the young and strong
Wrong!  My wife and I, ages 62 and 63, are living proof of that fallacy.  While it may have taken us a bit longer, we cleared the passes and put in the miles with nothing but smiles.  Now, don't take this to mean you can arise from your La-z-Boy and cover all 211 miles with little effort.  You need to be in reasonable physical shape with no serious health conditions.  The JMT is strenuous and long.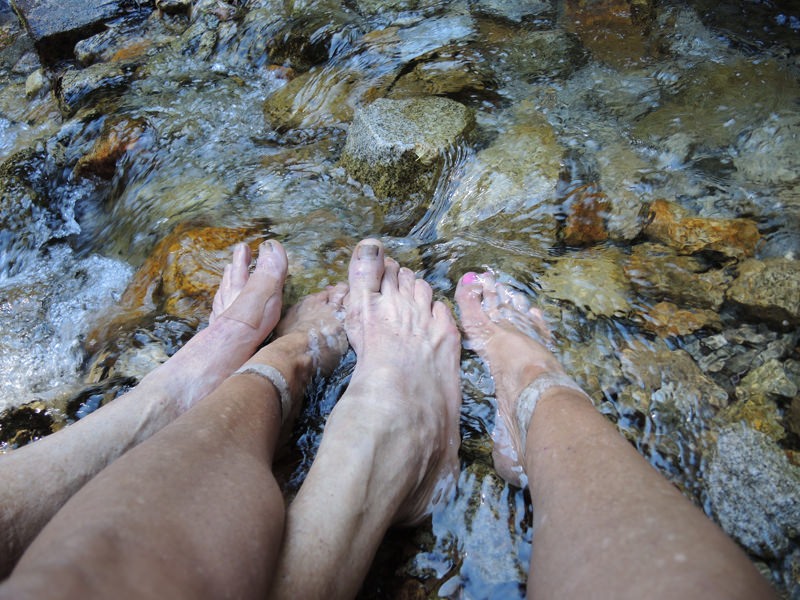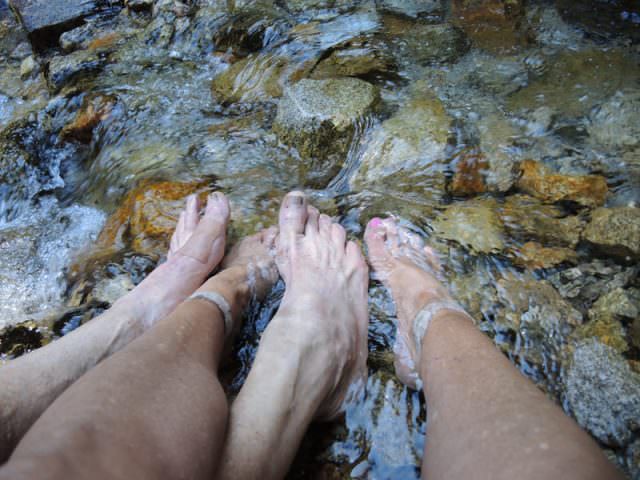 2. There are bears!  Everywhere!
Partially wrong.  You may see a bear or two in the first two days of Yosemite, but they become a rare sight after that.  A cooperative effort of Yosemite National Park, Sequoia / Kings Canyon national Park, and the US Forest Service has mandated the use of approved bear-proof food storage systems on the length of the JMT.  Bears have learned that backpackers do not mean food, and backpacker-bear interactions are few and far between.
3. You need to be a mountain climber
Wrong!  The JMT is a well-worn trail for its entire length.  Ascending and descending mountain passes are on well-maintained trails.  True, some trails offer exposure but all are wide and safe.  For gosh sakes, horses can be found on any part of the JMT!  Even the trail up Mount Whitney is wide, safe, and well-constructed.
4. Creek crossings are deadly
Partially wrong.  The few non-bridge crossings are very safe.  Only in early summer will there be problems.  Only one stream crossing is "shoes off," that being McClure Creek at the start of Evolution Valley.  While this crossing may reach mid-thigh level in early summer, it is located in a meadow with a sandy bottom and swift, but not fast, water.  That being said, the JMT parallels water for a good part of its length and potentially lethal off trail water hazards abound, ranging from cataracts to waterfalls.
5.  The altitude is too high
Partially wrong.  The JMT begins is Yosemite Valley at an elevation of about 4,000 feet, quickly ascending 1,900 feet to  the top of Nevada Falls.  From there it is a more gradual climb to Tuolumne Meadows at about 8,600 feet.  As the JMT travels south, it gradually gains altitude, allowing your body time to acclimate.  The JMT does cross high passes, but prudent trip planning will result in hiking high and sleeping low. While some people simply cannot adjust to the higher elevations, but the vast majority have no problem.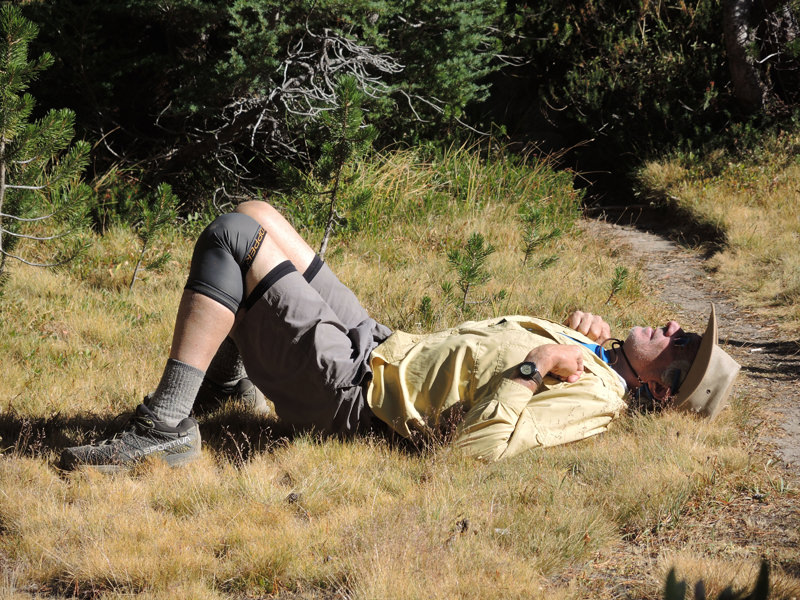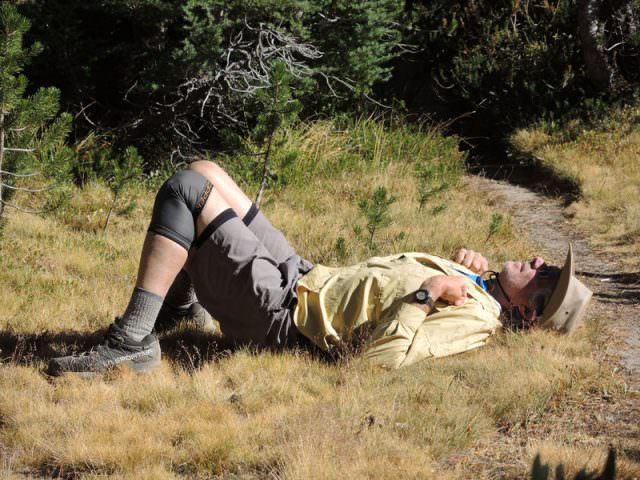 6. It is impossible to get a trail permit
False.  There are several websites dedicated to strategies of securing a trail permit.  You must be flexible on your start dates and trailheads entering the wilderness.  It is easy, inexpensive, and quick.
7. Bear canisters are too big/too heavy/too expensive
False.  The Bear Vault 500, which holds 7-10 days' worth of food is rigid and forces you to pack around it, but it is relatively inexpensive and available at any REI.  The Bearicade is very expensive, but lighter.  Both can double as camp stools.  There is a dynamic market on EBay for used bear canisters.
8. It is hard to get to the trailhead
Wrong.  Yosemite Valley has public transit into the valley and shuttles to all major points.  Upon exiting at Whitney Portal, it is common to hitch hike into Lone Pine.  From there, East Sierra Transit Agency (ESTA) has scheduled buses north to Mammoth Lakes, where a Yosemite bus will return you to the valley.  Alternatively, ESTA can take you directly to Reno International Airport.
9. Rangers will hassle you
Wrong.  Backcountry rangers are there to assist you and they enjoy the company.  Use these rangers as a resource for fire information, trail conditions, weather reports, etc.  Residing in wilderness ranger stations, they summer in the most beautiful place in the world.  How could they be anything other than pleasant?
10.  This year was too snowy / too dry
Partially false.  Even in dry years, the JMT is never far from water.  The longest dry stretch on the trail is about five miles.     In early summer, snowbanks may obscure north sides of the passes in heavy snow years. In snowy years, the snow melts quickly under the California sun.
11.  Mosquitos will eat me alive
Partially false.  Early season mosquitos have voracious appetites and attack in hordes of thousands.   DEET will keep the pests away, and the use of a mesh head net during early season will allow you to retain some degree of sanity.  From mid-August on, they mysteriously vanish.
12. The JMT is crowded
False.  The only crowds you will see are Yosemite Valley, where the JMT begins, at Tuolumne Meadows store and campground, and at Red's Meadow.  Other than that, you will typically see 2 to 5 other backpackers a day.
13. I cannot afford it
Wrong.  While the current trend is towards ultra-light equipment, which is typically ultra-expensive, the JMT can be done with relatively inexpensive equipment.  Predictably mild weather eliminates the need to prepare for arctic conditions.  Many backpackers do without a stove, subsisting on energy bars and GORP.   Clothing does need to be high tech; just avoid anything cotton.
14.  I am afraid of getting lost
False.  The JMT is a well-trodden path, well signed, and a clear route.  Even in its most obscure spot, on the south side of Muir Pass, the trail follows an obvious route.
15.  It is all too complicated
False.  There are numerous on-line resources for planning your trip, scheduling resupplies, and offering general advice.  A minimal amount of planning will result in life long memories.
16. I cannot be away from Facebook and my Pokeman Go for that long
Possibly true.  But, this is why you need to hike the JMT – to get a life!
17.  I'll do it next year
False.  You will just be another year older and look for other phony excuses.
Have a question about the John Muir Trail? Ask us below in the comments and we will do our best to answer it!