This is the second time I have been to Canyon Creek Meadows and it was just as good as the first time if not better.  Canyon Creek Meadows is an incredible place that doesn't get much attention thanks to it's distance from Portland and difficult access road in to the trailhead.
Located roughly an hour from Bend and right off the Pacific Crest trail, Canyon Creek Meadows sits at the base of Three Fingered Jack – you know, that jagged looking rock that resembles the lair of a villain in a Disney movie that you see when driving over Santiam Pass.  What most people don't know is at the base of Three Fingered Jack is one of the most pristine and beautiful meadows in the entire state.  If you are lucky enough to visit Canyon Creek Meadows during wildflower season you are sure to be in for a treat.
This year, however, I missed the flower bloom thanks to an early summer brought on by the drought.  In fact, the actual creek that is usually flowing with practically drinkable mountain water was down to a mere trickle and completely dried up at some spots.
This time around I got a very late start on my hike thanks to Google maps taking me a completely wrong direction and trying to navigate some sketchy jeep trails.  Eventually I found my way to Jack Lake, where the trailhead for Canyon Creek Meadows resides.  Jack Lake is a small but swimmable lake with a few campsites scattered around it thought this is not the place for actual "car camping".  A Northwest Forest Pass is required to park at the trailhead and you will need to self register at the trail permit kiosk before entering the back country.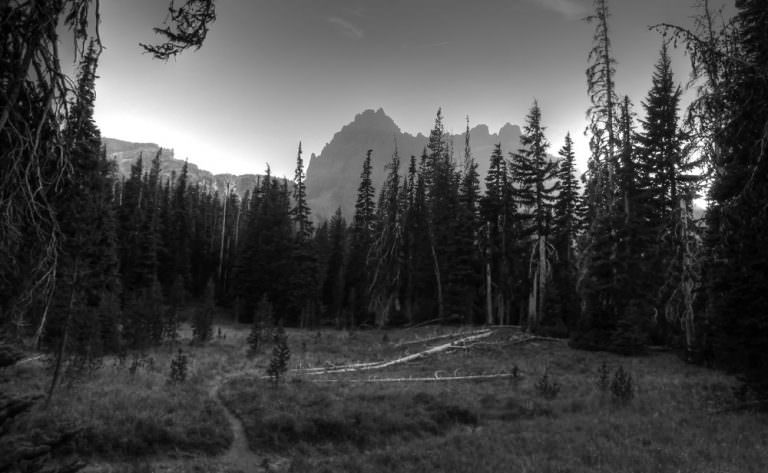 The Canyon Creek meadows trail is fairly straightforward and it follows the "lollipop" format.  I chose to just do an out and back since I was getting such a late start and preferred to trace my steps back out since I anticipated being in the dark.
The hike is fairly easy and this would be an excellent "first time" trip for a novice backpacker looking to break in the boots and spend a night in the wilderness.  The trail goes in and out of an old burn and is a little spooky at spots with amazing views of Mt. Jefferson through the scorched trees.  After some time the views of Three Fingered Jack Begin to appear.  I followed the trail all the way up until you get to a rocky area where it seems to just dissapear.  At this point I was at the base of Three Fingered Jack.
If you want to climb up Three Fingered Jack you can scramble up the left side (when facing it) to a saddle that will offer some amazing views of Mt. Jefferson and Mt. Washington.  This is pretty much as far up as you can go without climbing gear and even if you had it the rock is very loose and it probably would not be that fun.
I scrambled back down as the sun was setting and eventually found myself walking through the woods following only the light of a small LED flashlight I had thrown in my pack at the last minute.  With the darkness it seemed the critters were out and I stumbled upon three massive bull frogs right in the middle of the trail.
I did this hike in just over two hours… out and back.  I would suggest giving yourself plenty of time but that should illustrate how easy this actually is.  Overall I did 6.9 miles with an elevation gain of 1,755 ft.  You can see my GPS tracks below.