Madison Campground is one of the most popular campgrounds in all of Yellowstone National Park.  Located just 14 miles from the West Yellowstone Park entrance and situated near the middle of of the park, Madison Campground is an ideal location for those spending several days or more exploring the surrounding area.
Madison Campground
Madison Campground has over 270 campsites, 3 group sites and is able to accommodate most large RV's and campers.  There is a camphost on site with wood for sale and some of the facilities include flushing toilets and sinks, dish-washing stations, potable water, RV dump stations and bear bins.  Daily rates start around $21 a night and there are designated camp loops for tents only if you are looking to get away from the noise of generators that typically accompany RV's and trailers.  Every night during the peak season there is a campfire program put on by one of the Yellowstone rangers and these are usually very informative and done well.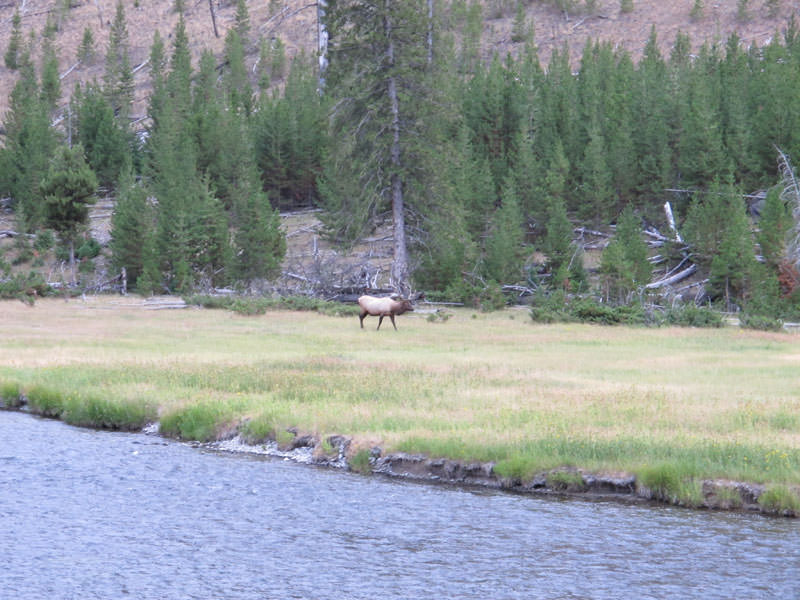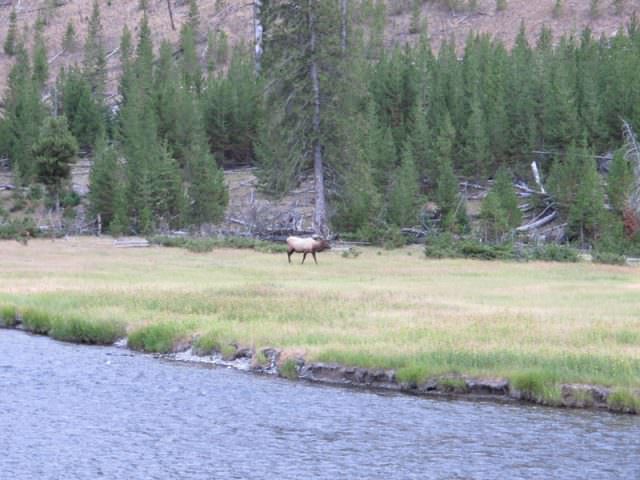 The campground layout is in a loop format with roughly 10 loops dividing the sections of the campground.  While it is wooded, most trees in this areas lack any branches on the lower half of them so privacy is a bit of an issue with there being very little of it here.  So expect your neighbors to be able to see pretty much everything you are doing in your campsite.  The loops are paved and are designed to accommodate large RV's and trailers.
Wildlife near Madison Campground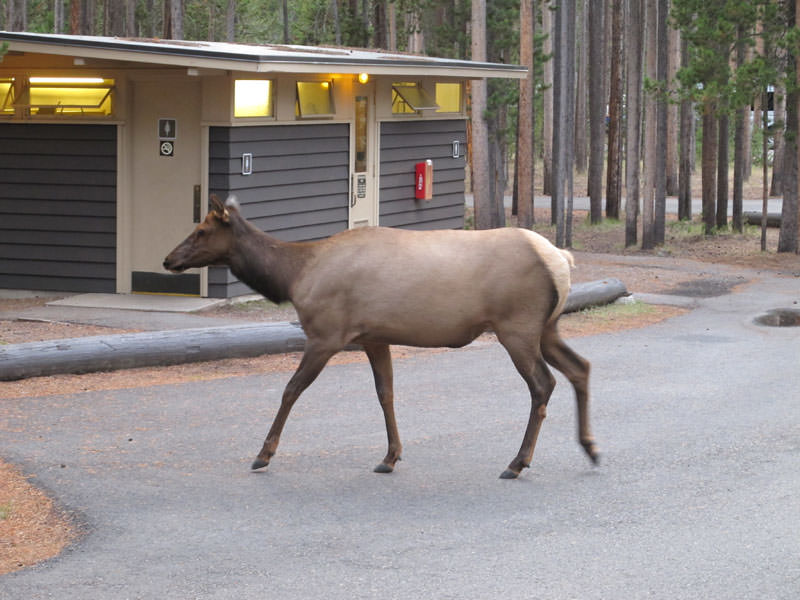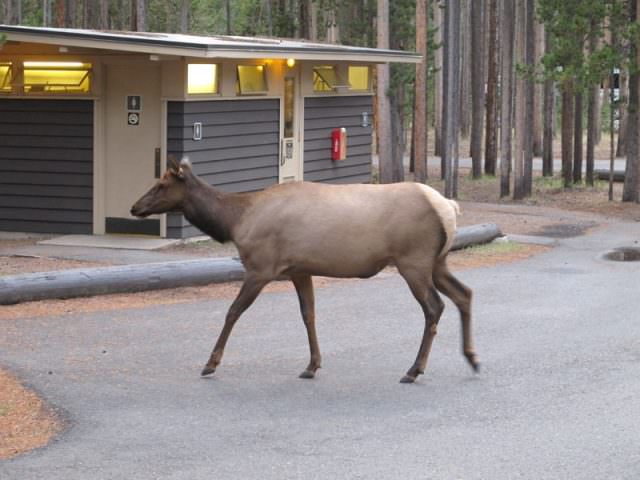 Expect to see wildlife while you are camping at Madison Campground.  Yellowstone is known for its abundance of wild creatures from bears and wolves to moose and elk and you can expect to see some wildlife while you are camping here.  Often times elk will literally walk right through the campground mostly ignoring all humans. It is for this reason that there is a strict regulation on keep all dogs on leashes at all times.  There are also bears nearby, coyotes, bison and moose.
For the best chance of seeing some wildlife make sure to walk down to the nearby meadow where the Madison Junction is (the merging of the two rivers).  The best time for this is either early morning or at sunset.  You can almost certainly count on seeing some elk moving through the meadow and if you are lucky you might see one of the bull elks making his way through the brush.  Bison also graze in this meadow and bears are known to have visited the area as well.
Swimming at Madison Campground
Swimming in the river at Madison Campground is not something many people do however it is an option for those looking for a bit of adventure.  The Firehole river is fed by many of the nearby geysers and because of this it is actually fairly warm.  In the early morning when it is cold out you can see the steam rising off the river in the meadows which makes for some great photo opportunities.  If you explore the rivers edge you may be able to find some of the spots where the water is warmed by a small geyser and if you get creative you could end up with your own little natural hot tub.  This is not exactly ideal, however, as most of the geothermal areas on the rivers edge are in about 6 inches of water.  If you do decide to go swimming be sure to stay alert for wildlife and clean up after yourself.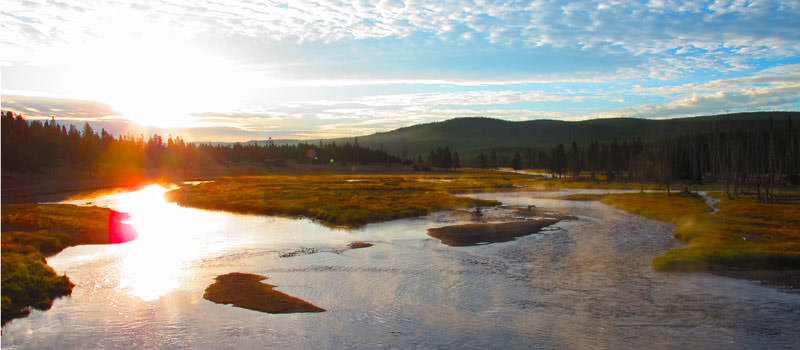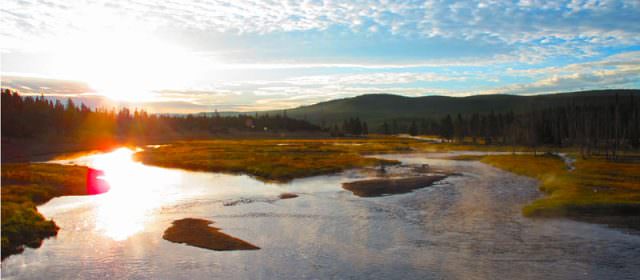 Getting There
The campground is located at the junction of Firehole River and Gibbon river and is conveniently just 14 miles from the West Yellowstone entrance and only 16 miles from the Old Faithful Inn.  This makes it an ideal location for those looking to further explore the park.  It is recommended to split the park into a north loop and south loop and designate at least a full day for navigating each one. The GPS coordinates are 44.644482, -110.866186.
Temperature in Yellowstone
The weather in Yellowstone is serious business.  In the winter time it can get down to -50 degrees and in the summer the highest temperature on record is 93 degrees.  It is important to remember that Yellowstone is located at incredibly high altitude and because of this it does not see very warm temperatures.  It has been known to snow and snow hard in the middle of July which also is traditionally the warmest month in Yellowstone.  In terms of rainfall May is usually the wettest month.  If you are visiting Yellowstone it is important to pack clothing for all types of weather because you really never know what is in store for you.  The ideal time to visit, however, is going to be in July or August – which will also be the busiest time of the year to visit.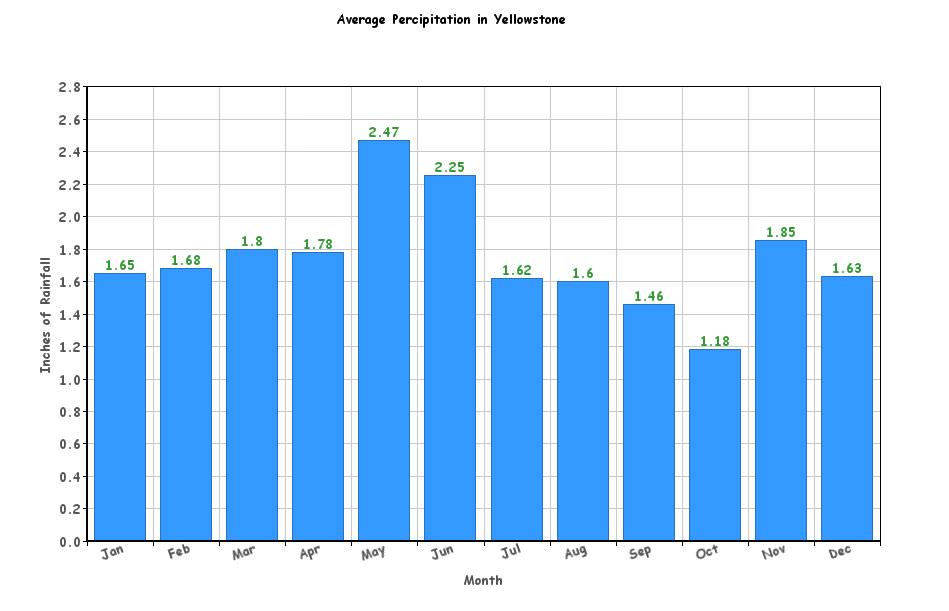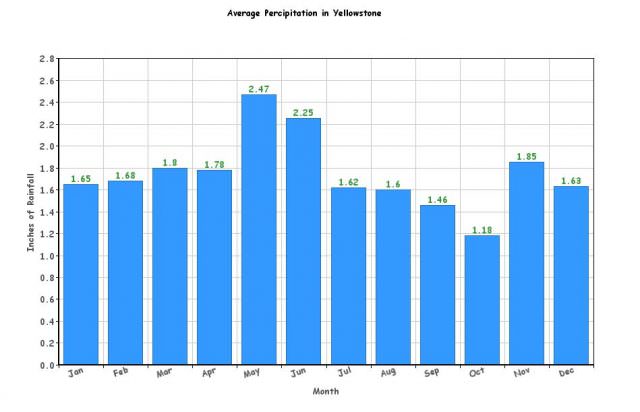 Tips and Suggestions
There are bears in Yellowstone and often times they are up to no good.  It is incredibly important to make sure you keep your food locked away and try your best to not leave out any scraps that might attract wild animals.  If you leave food out and a bear gets into it the park will you YOU personally responsible and that is not something you want to deal with.  While firearms are legal to possess in the park it is illegal to discharge one.
  For this reason we suggest purchasing bear spray prior to your visit.  Also, firearms laws are constantly changing so please be sure to check with the current regulations prior to bringing any firearms into the park.
If you are camping with a trailer you are lucky. Those with larger RV's will not be able to visit man of the geysers sites in the park as they cannot accommodate such large vehicles.  It is suggested to leave your trailer at the campground and drive around in your car as you will have a much easier time navigating the parks narrow roads and parking lots.
Fires are usually allowed within the designated fire rings in your campsite and firewood is available for purchase from a camphost.  Be sure to fully extinguish your fire as winds can pick up and carry sparks to combustible areas nearby.  The last thing you want is to be that guy that burned down Yellowstone National Park.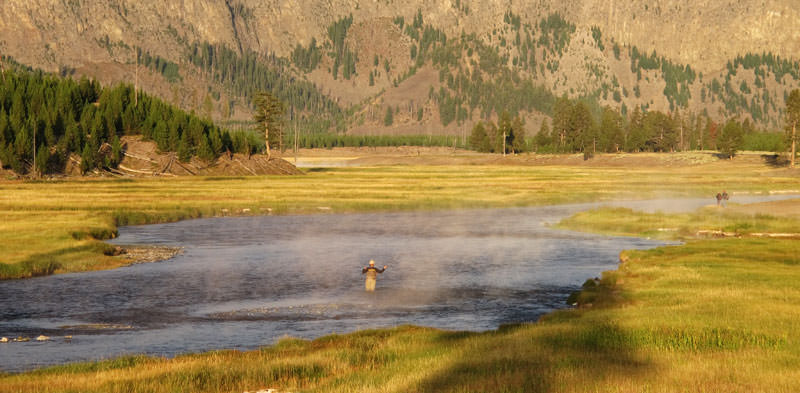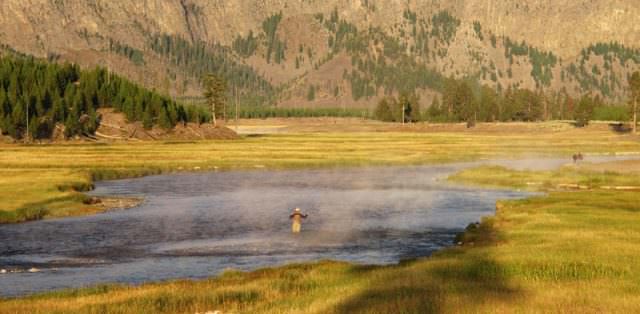 Fancy yourself an angler?  Fishing is allowed however you can only fly fish in Yellowstone. Traditional fishing lines tend to get snagged and with the sheer number of people that visit the park the lakes and rivers with soon fill up with fishing lures, bobbers and lines and litter the beautiful bodies of water. It is for this reason that fly fishing only is allowed throughout the park.
If you are traveling to Yellowstone during the peak season, say in July or August, make a reservation!  Campgrounds fill up fast and you will want to make sure you have a place to hunker down for the cold nights.  Be ready to tell the reservation office the exact size of your RV, trailer, tent and vehicle as they have this down to a science.
Most important tip:  Enjoy yourself! Yellowstone is an incredible place.  Take lots of pictures, explore outside of your comfort zone and be safe!